Master Bedroom Transformation Before and After | WEEK 3
It's already week 3 of this huge master bedroom transformation! I will be giving you a sneak peek of my DIY master bedroom makeover. Check out the video below to see the full sneak peek! The bedroom is almost done and I am really excited about it! It really is starting to look like my Restoration Hardware inspiration board and feeling like a luxury resort hotel room. I don't want to give too much away in today's sneak peek, because that would take all the excitement away from the big reveal, but let's take a look at what got done.
The room is now done! Make sure to check out the full playlist of this series here!
Since the main problem with this room was the bare walls, the biggest change in the room was the curtains, and they totally made the room look luxury. It was such a shame to have this beautiful curved wall of windows without any curtains – it just looked sad. My inspiration photos had dark curtains, so I went with that but I was worried the curtains would make the room look smaller. But they really didn't – it actually looks bigger now because the curtains draw your eye up towards the high ceilings.
My husband was nice enough to help hang the curtains for me, so the hardest part for me was ironing so many curtains! I put them in the dryer on the steam setting and it only took a few of the wrinkles out. To get the really set in ones, I had to iron each of the 10 panels individually. Then my husband put them up as quickly as possible so they wouldn't re-wrinkle. It was hard deciding which curtain rods to get but I went with some dark ones I found on Amazon. I didn't want them too big and clunky or too small and dinky, so these were juuuust right. The panels were really cheap but decent quality – I found those on Amazon too and they had a bunch of other colors. The curtains were a little lightweight, so I added some batteries to the bottom hem to keep them weighted down.
The next big project I had was getting all the wall art up. I already found the bargains on those frames and had an idea of what I wanted to fill them with.
The furniture I already have in the bedroom has some grooves that remind me of classical Greek and Roman architecture. So I searched for images that were inspired by these ornate lines and elements. I had seen these wall hangings from Restoration Hardware and I loved them. But I am not going to pay almost $2,000… for a print of a drawing. I saw in the description that these were drawings from Colen Campbell, so I did a quick Google search and found a lot of drawings from Colen Campbell, who popularized the Palladian architecture style in the 1700 and 1800s. I liked the idea of this palace elevation and found an image that would work well for the long picture above the armoire. Since the frame I got had 8 individual sections, this would be split into pieces.
For the series above the bed, I had found those super cheap frames at Michael's and needed 6 images for the 8x10 frames. I found 6 of those Palladian style homes by the same architect Colen Campbell that I had used for the larger image. Some of these images had a beige tone to them and since I wanted them to match, I took them into Photoshop to make them black and white, so that there wouldn't be any variation in the tones. Then I brightened them up to have a solid white background and leveled out the contrasts between the blacks and whites so they look like a true series. I printed and trimmed them out on bright white paper.
I used pliers to get some of the hooks undone on the backs of the frame so I didn't break all of my nails. Then I put each image in with a little piece of tape so they wouldn't shift once these were on the wall.
I am still waiting on a couple things I ordered. I got an off white chair for by the window. It was really cool because on Target's app, they have an augmented reality function, so you can actually see the piece of furniture as though it's right there in your room.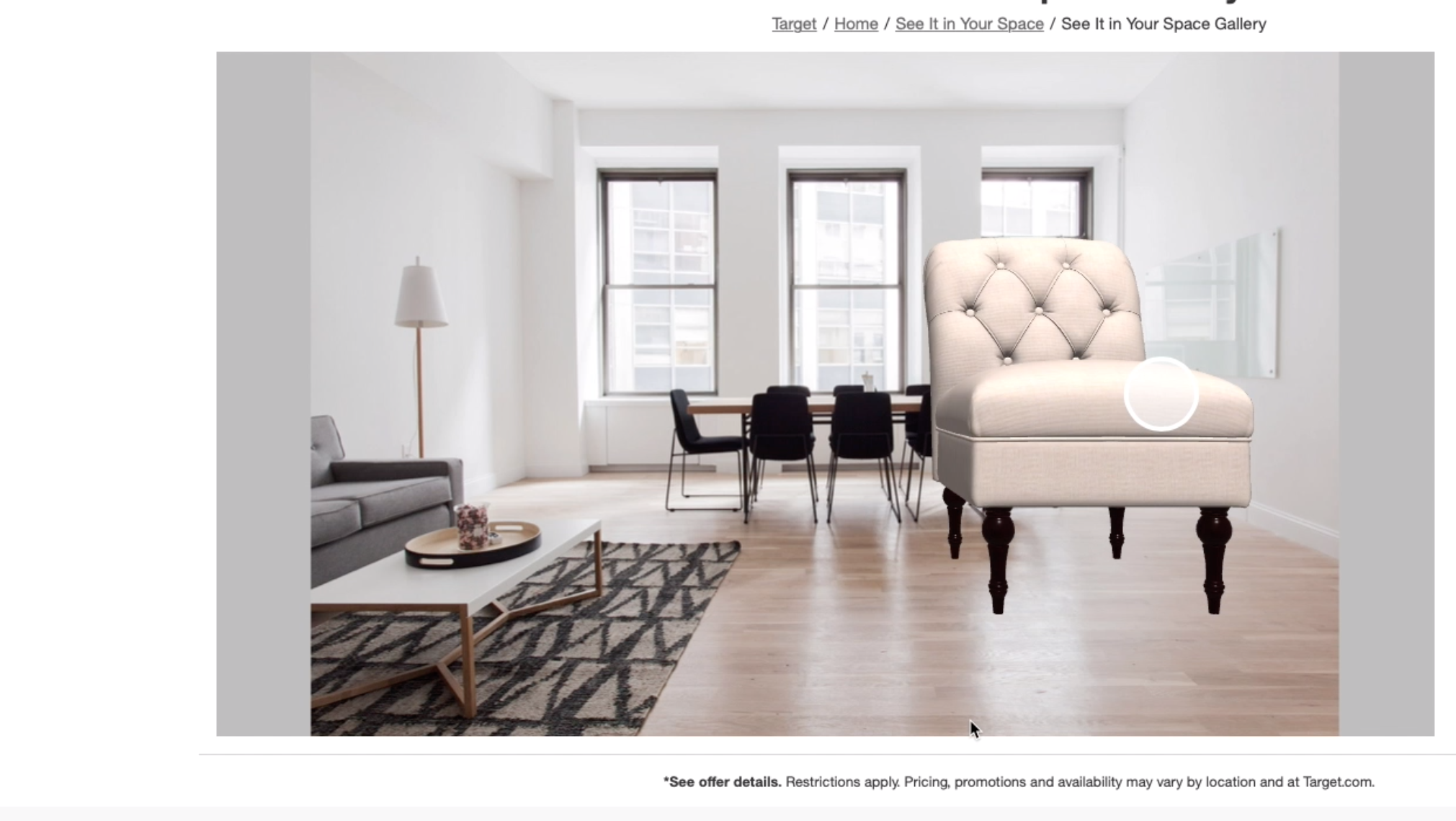 It's from Target and the perfect size for my new sitting area.
I'm also waiting on the bedding. I know I will be playing around with the way I want the pillows to stack and the blankets to lay and I will probably get a little OCD on how much I want to fold down the comforter. The way they do that in hotels always makes the beds look so inviting, so I will be studying photos to recreate the look of a very crisp and inviting hotel bed.
The room is now done! Make sure to check out the full playlist of this series here!
FTC Disclaimer: All opinions are always 100% honest and my own. Some links may be affiliate. It doesn't cost you anything extra and you are free to use the link or not as you choose. If you do use my links, I appreciate your support.