What to Fill a Lantern With
So, I have never decorated with lanterns before. But I AM a designer…so I think I can pull this one off. I actually went out and bought a lantern, since I didn't have one, so if you want to see two different low-cost ideas to fill a lantern, watch the video below, or keep reading.
I am really excited to decorate my brand-new lantern and I have come up with 2 different ideas on how to decorate a lantern for Fall! I'm also going to show you how I decorated my fireplace and mantle for Fall this year. It is a little different than what I did last year and if you want to see what I did last year, CLICK HERE for my post with more Fall decor inspiration.
You could also use these ideas for any season and just tweak the filler for the lantern to fit your color scheme or holiday. I'm going to show you my lantern by the fireplace, but lanterns are also amazing for centerpieces year round or at an event like a wedding or party.


// find your perfect lantern
They had so many lanterns at Michael's and they were all 40% off!
This one is the perfect design to match the color scheme in my home, which uses a lot of dark wood and I accent with gold. I have a white fireplace, so I think it will really pop against the white paint. If you are going to use yours on dark colors, maybe think of picking up one that is metallic or white. This large one was regularly $40, but I got it for $24 with that 40% off discount. They also had a smaller matching one for $24, but I didn't pick that one up. Here is the lantern I bought, in case you love this one and want one for yourself!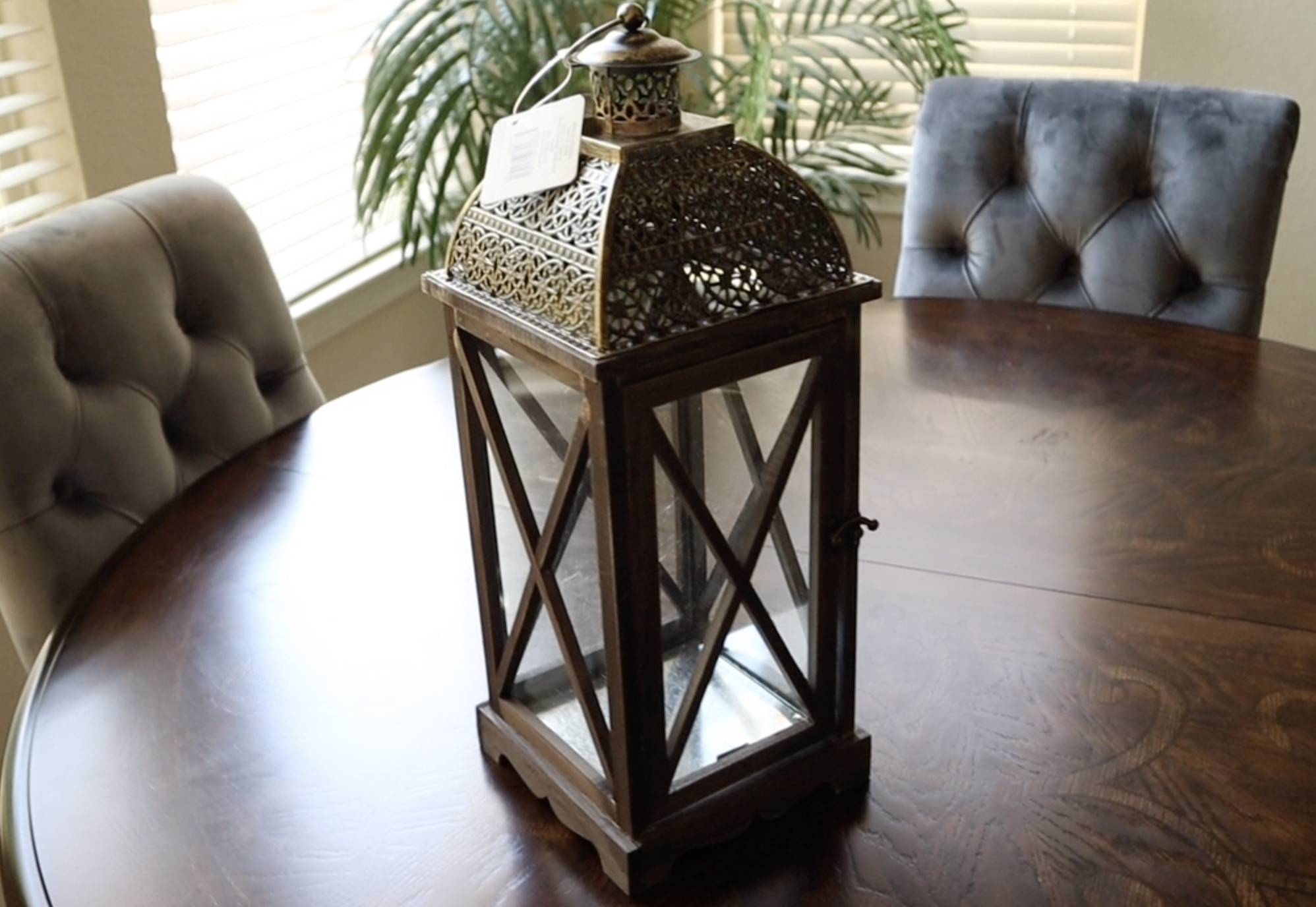 // let's fill that lantern
Ok, let's get into the creative process of filling this lantern. You can use whatever you have around your house to fill your lantern. You can go through your seasonal decor and pick out items that might fit well in your lantern. It could be 1 item or multiple items.
I had some little felt pumpkins I had found at Target last year, and I did find a few similar ones HERE for you.
I also used some little rattan ball lights. Any kind of battery operated light strand is a great option for using inside of lanterns.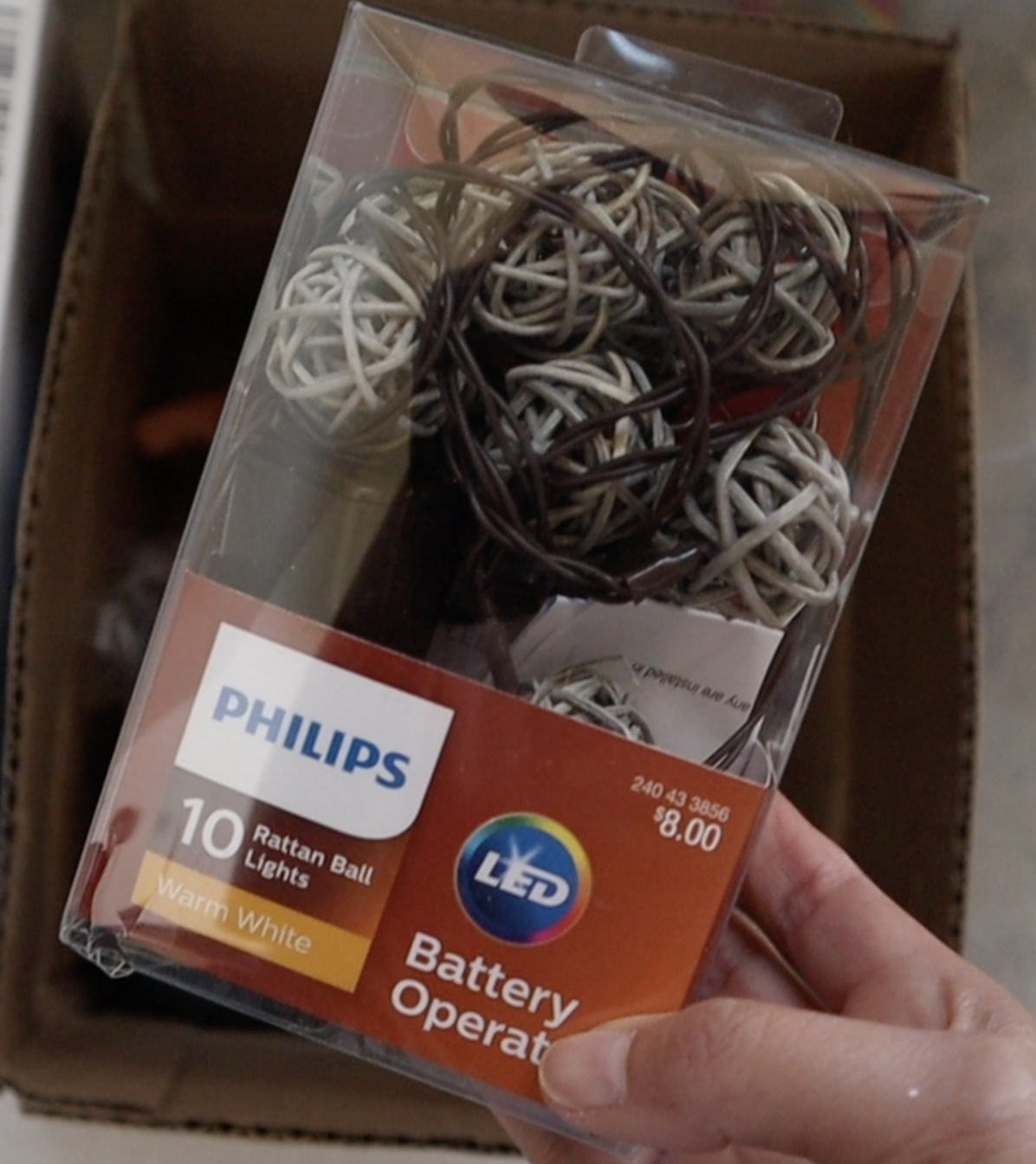 I found some cute pumpkin ones at Target!
Dollar Tree had a tons of cute Fall decor and florals, so head over there if you want to stock up for the season. I know their seasonal items go quick and before you know it, they will have Christmas out, so make sure to get those Fall items right now, if you are wanting some cheap decor items. I picked up some cute pumpkins and florals from Dollar Tree. I painted the stems of the pumpkins to be gold to match my gold and wood lantern.
Hopefully Dollar Tree has some left!
// pumpkin filled lantern
So let's start with the pumpkin filled lantern. I thought these pumpkins looked so cute in there and I styled this first without lights and then put the little battery operated rattan ball lights in there for a different look and felt the lights made it warm and cozy feeling.
// floral lantern
Next, I wanted to do a version with the Dollar Tree flowers in there. To give some structure to the flowers, I needed something to be the center holding all the flowers. I had an empty paper towel tube, so just used that. I poked little holes with a knife to hold the flowers in place. You can't even see the paper towel tube and the flowers seem to float effortlessly and beautifully in the lantern.
I loved this version of styling my lantern so much, I decided to keep it like this for my Fall fireplace decor. For my decor, I like to keep it simple, yet elegant. I used some felt pumpkins, gourds, and other ceramic pumpkins to decorate the fireplace beautifully for Fall. I did a Dollar Tree floral arrangement, so check out THIS POST, if you want to see how that came together.
FTC: Not Sponsored. All opinions are always 100% honest and my own. Some links may be affiliate links. If you click a link and buy something, I receive a small commission for the sale. It doesn't cost you anything extra and you are free to use the link or not as you choose. If you do use my links, I appreciate your support.