Jewelry Tips & Tricks | Ana Luisa New York Review
Want to know answers to questions like, "How many pieces of jewelry should you wear at one time", "How much jewelry is enough", "How to pair jewelry with outfits", "How to style gold jewelry", "How to pick jewelry for a dress" and even, "Why wear jewelry in the first place"? Keep reading to get some great fashion jewelry tips and tricks, so you can know if there are rules for wearing jewelry and how to wear jewelry to compliment your look. I'm also going share an Ana Luisa New York review, so you can see the quality of the Ana Luisa jewelry line, up close and personal!
Before we get into the 5 jewelry questions, I want to mention the jewelry I will be featuring in this video. When I saw the Ana Luisa site, I knew it was totally my style. They have classic pieces with an artistic twist and as a designer, I'm always looking for things like that! Ana Luisa was sweet enough to send me a few items, and even better, Ana Luisa is giving the Artsy Cupcake Crew a generous $10 off your order! If you click on the link below and use the code CUPCAKE10, you will get that $10 discount!

// GET $10 OFF YOUR ANA LUISA PURCHASE
http://www.analuisa.com/Cupcake
Use the link with code CUPCAKE10 to get $10 off!



// The jewelry
I wasn't planning on doing an unboxing, but I'm a sucker for good packaging and couldn't resist sharing this gorgeous packaging with you guys. To see the unboxing in all its glory, make sure to check out the video above. There is a cute little jewelry box included with a navy blue and off-white color scheme, which has an understated elegance. The items came in navy blue pouches with a snap on them, which would be great to use for traveling. There was also a coral colored cleaning cloth and additional plastic carrying case included.
The first item is called the Lapis Lazuli Necklace. It has a pretty little pearl stone on the back of the chain with an extender. I love extra details like that. This is so delicate and feminine and would be perfect for pairing with other necklaces.
This blue and gold friendship bracelet will look amazing with the Lapis Necklace with the blue stones! Did you know it takes 20 tons of earth mining to produce a single ring of gold? Ana Luisa uses 100% recycled gold in their products. And since they use real gold, you might think everything is expensive, but because they sell directly to consumers, and use responsible production, you get the jewelry at 10 times less than a typical retail store.
Tessa Navy Blue Friendship Bracelet
I have never seen earrings quite like this. They are like tassels, but with pearls. I think they will be really versatile because they could go well with an evening gown or jeans and a teeshirt. They are called the Sophia Freshwater Pearl Drop earrings made with 14 karat gold and real freshwater pearls. Their retail value is $238, but Ana Luisa is able to sell them direct to the consumer for $95!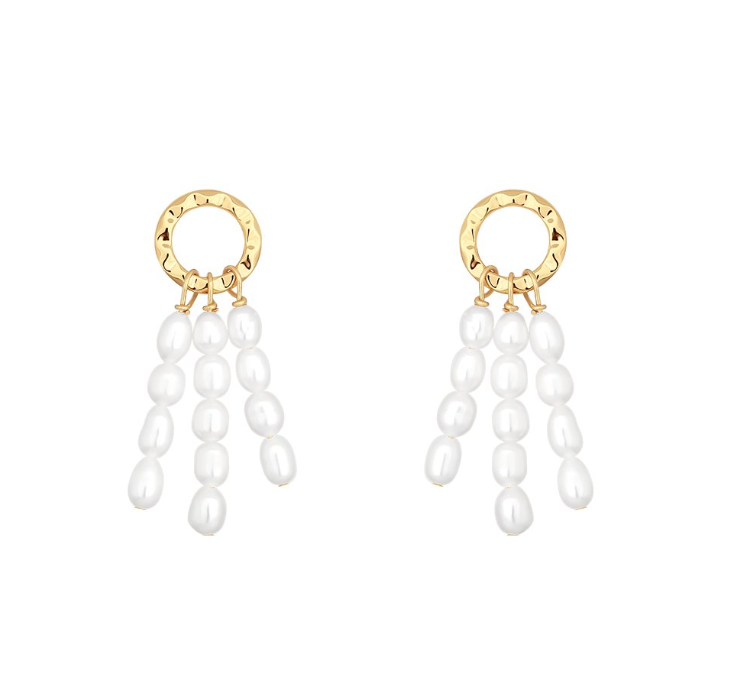 Sophia Freshwater Pearl Drop Earrings
This gold disc necklace has a little compass on it and a sparkle of zirconia right in the center. Ok, how cute is the tiny envelope on the back? I know it is just an efficient way to prevent the chain from being a mess when it shows up at your front door, but things like tiny, cute little envelopes just make me happy. This is actually part of a set with the next item, but you can opt to buy each one separately. I like that they are separate, so you can mix and match with other necklaces too.
Layered Necklace Set - Cardi
And lastly is this beautiful crescent shaped gold necklace. It looks like a little horn. Excellent craftsmanship and a solid piece of jewelry. Look at the details on the chain with the little gold beads. Details like that really help add some nice texture to an outfit.
Ok, now that we have marveled over the pretty jewelry, let's get into those 5 frequently asked jewelry questions.



1 // why even wear jewelry in the first place?
Jewelry is deeply rooted as part of our human history. The oldest known jewelry is made from beads made of shells and dates back to 100,000 years ago. Jewelry used to be used for practical purposes, to hold clothes up or used as a status symbol or decoration and we still use it for those purposes 100,000 years later. These days though, jewelry is mostly a form of personal expression, a way to dress up an outfit, a way to change up the entire look of and outfit.
Clothing consists mostly of fabrics, so adding the element of a metal adds adornment in a different way – it adds a layer of texture. It can also help draw the eye up and down your outfit, by working as anchoring points to pull it all together. Another benefit to wearing jewelry is that it is a great conversation starter. It can connect you to others with a story of who gave it to you, what life event happened when you got it, or what part of the world it came from. It is the finishing touch to any outfit and is your personal flair and style that you can wear proudly and as quietly or loudly as you want.



2 // how many pieces of jewelry should you wear at one time?
Of course, you can do whatever you want, because after all it is your personal style. But for certain occasions, there are some guidelines to follow. For example, if you work in a typical business environment, less is more. Too many sparkly rhinestones can look unprofessional, and huge earrings or costume jewelry can also look a bit out of place in the office. Avoid loud jewelry – when bangles are clanking together, that is when too many bracelets being stacked could be a bad thing because they could distract your co-workers. But if you are going out for the evening, layer on those loud bracelets!
For necklaces, I typically see layered necklaces assembled in 2's or 3's. Any more than this can look a little clunky, unless they all have a very light chain. And when you are stacking whether it be necklaces, rings or bracelets, take a look at the weight of the pieces, if they are all thick and heavy, 3 may be too heavy, so maybe swap out one or two for a thinner weighted piece.
Another point to note here is your body's physical size. If you are very petite, you may want to look for smaller pieces of jewelry, so it looks proportionate to your body.



3 // how to pair jewelry with outfits?
We already went into how to wear jewelry for the nine to five, but what about for other times of the day? Here are a couple ideas:
try styling pearls with sea colored clothes
Styling pearls with colors that are from their natural environment will highlight and compliment them. Try shades of blues because these beautiful stones from the sea pair well with various shades of the ocean! I also think pearls look beautiful with pastels and shades of beige, white and off-white.
Look at a color wheel
I went into this a little in my jewelry video, which you can check out RIGHT HERE, but using the color wheel concept is something I do so often and love the look of. They say opposites attract, and that is how it works on the color wheel too. Anything opposite of each other on the wheel will compliment each other. So, let's look at the blue. Directly opposite of the blue is orange. So, knowing that, an orange top should look great with my blue colored jewelry.
4 // How do you style gold jewelry?
Gold can make the biggest impact with black and white. Black and white is so stark and is the biggest contrast you can make. Something about the look says classic, a little art deco and ultra artsy. Silver also looks good with black and white, but gold really pops against black and white, so if a bold look is what you are going for, black, white and gold is the way to go.
Going back to that color wheel, if we look at the yellow, and have that representative of yellow gold, with purple being across from the yellow, this theory shows that a violet top will really make the yellow gold stand out.
5 // how to pick jewelry for a dress?
So, how do you choose the right jewelry for a dress? It depends a lot on the neckline of the dress.
High neckline dress
You have some flexibility on the length of necklace, you could go for a long or short necklace or even layer. Because the neckline is simple, you can add bracelets and any type of earrings with this style of dress.
Illusion neckline dress
You will want to stay away from necklaces because it will take away from the beauty of an illusion neckline. Just wear a dangling pair of earrings and coordinating bracelets and rings as your jewelry for this look.
off the shoulder dress
For off the shoulder dresses, you will want a shorter necklace and longer earrings and then some arm candy for those bare arms.
Please share your personal jewelry tips with the Artsy Cupcake Crew in the comments section below. I am trying to build a positive community who shares with each other, so I would love to get to know you. Thank you so much for reading and I hope you have a very happy day!



// GET $10 OFF YOUR ANA LUISA PURCHASE
http://www.analuisa.com/Cupcake
Use the link with code CUPCAKE10 to get $10 off!

FTC Disclaimer: Ana Luisa sent me these products to review. All opinions are always 100% honest and my own. Some links may be affiliate. It doesn't cost you anything extra and you are free to use the link or not as you choose. If you do use my links, I appreciate your support.