Healthy Vegetable Meals
I have some yummy and healthy meals ideas for you today. I am not a vegetarian, but I do a fruit and veggie day about once a week and will explain why this is beneficial in this post. Check out the video below, if you want to see the meals come together and keep reading for tips on how you can incorporate more fruits and veggies into your diet.
I am not a vegetarian, but for health reasons, I do try to include a lot of vegetables in my diet. For adult men and women it's recommended to get at least 2-3 cups of vegetables in per day. I think on most days, if I'm not really paying attention to my diet, I don't get that 2-3 cups of vegetables. So, I try to have at least 1 day a week where I really focus on getting my vegetables in. There are all kinds of benefits to eating your vegetables. They are low in calories. They have a lot of natural nutrients. You get your fiber in your diet and they're high in folate, vitamin A and vitamin C. Some studies say that diets high in fruits and vegetables may even reduce the risk of heart disease, obesity and diabetes and some claim they can even protect your body against certain types of cancers and extend your life span. If you use vegetables in the right way, they can taste really good, so there is really no reason to avoid them.
I am going to go ahead and show you what I eat on one of my typical fruit and vegetable days.
// breakfast
Original Cinnamon Granola
For breakfast I like to have some fresh fruit and yogurt. I cut up some delicious strawberries. Strawberries are a sodium-free, fat-free, cholesterol-free, and low-calorie food. They are among the top 20 fruits with high antioxidants. I take my favorite yogurt, the Greek yogurt from Chobani in the vanilla flavor and I put this in a dish and top with some granola. The one I am using is the Bear Naked Cinnamon and it has cranberries, sunflower seeds in it. It has 6 grams of sugar and 6 grams of protein and 130 calories per serving. Then I top the yogurt and granola with the strawberries and some blueberries, which are also another fruit with a lot of antioxidants. I top with some cinnamon and this is a really filling meal because of all the protein in the yogurt and the sweetness from the fruit really satisfies me.
// LUNCH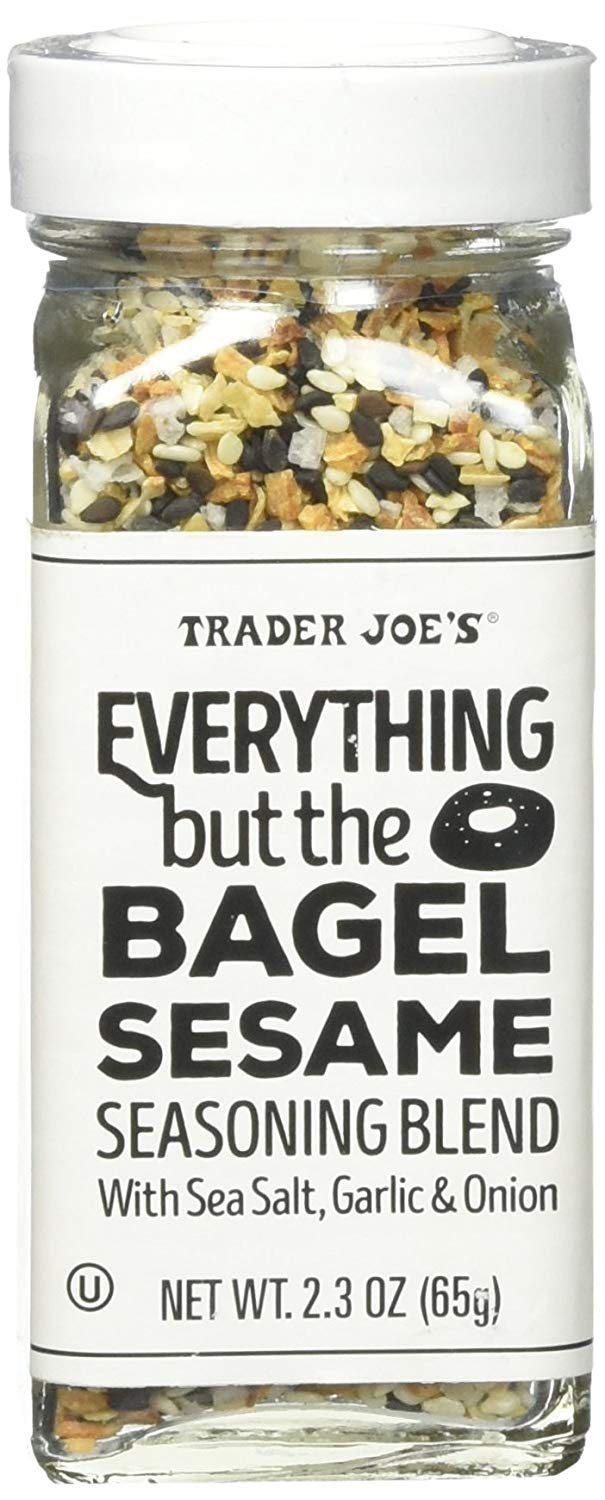 Everything But The Bagel Seasoning
For lunch I make some avocado toast. I really look forward to this meal because I love avocado. I toast 2 pieces of the Dave's Bread, which has 70 calories per slice. Then I slice up some cherry tomatoes and half of an avocado. I spread the avocado on the bread and top with the tomatoes and some feta cheese. The finishing touch is the Trader Joes Everything But the Bagel seasoning, which is so yummy because it has sea salt, garlic and onion all in one jar! This is really filling because of the healthy fats in the avocado and fiber in the whole grain bread.
// SNACKS
I usually have a couple snacks throughout the day, sometimes midmorning, sometimes between lunch and dinner, sometimes during both of those! One option is some grapes and crackers and cheese. I like the Light Babybel cheeses and cut them up and eat on them on the crackers. Another option is some veggies and hummus. I like to use carrots, but sometimes I go with broccoli and cauliflower florets. I usually like the Sabra Garlic Hummus, but they had a new flavor that is taco inspired with pico de gallo and it was really good too.
// WATER
Since this vegetable day is all about making up for deficiencies in my diet, it is about rounding things out, so I am hyper focused on making it the most healthy day that I can. This includes trying to make up for any days that I didn't get enough water. So, I keep track of my water intake more closely on this day as well as make sure I stay hydrated and healthy. I love this water cup from Ello, it has a nice rubber grip and is made of glass, so doesn't retain smells. The lid is bamboo and seals tightly shut. I got it from amazon.com. I like it so much I might get another one, even though I don't really need another one, I just want a backup in case they ever stop making it!
// dinner
For dinner on this day, I had made a copycat of the Panera Bread broccoli cheddar soup. There is a lot of broccoli and carrots in there so a good amount of your vegetable servings here. I did a whole blog and video on this recipe, so I will link that RIGHT HERE for you, in case you want to see how to make it for yourself. The Instant Pot made this meal really fast and it was done in 30 minutes. It is filling because there is cheese and cream in there and I serve it with some crusty french bread.
That was it for my weekly fruit and veggie day. I hope you got some ideas from these recipes. I would love to hear from you in the comments section. Thank you so much for reading, and I hope you have a very happy day!
Here are some other yummy and healthy recipes:
FTC: Not Sponsored. All opinions are always 100% honest and my own. Some links may be affiliate links. If you click a link and buy something, I receive a small commission for the sale. It doesn't cost you anything extra and you are free to use the link or not as you choose. If you do use my links, I appreciate your support.