Restoration Hardware Copycat Moss Tray | Spring Table Decor
This Restoration Hardware moss filled tray goes for $250. I did my own version for under $30. I did a video on the whole transformation, if you want to check it out!
I have been wanting to change up my tablescape, so I decided to go with a copycat of a tray from Restoration Hardware with the moss filling. They had several different types of troughs and trays. The Hanover tray is about the same dimensions as the gold tray I already have – 36x14x3. Just the tray without any filling is $195. I liked how the trough had a layer of moss filling, so used that filling as my inspiration. You can buy moss from Restoration Hardware for $55. That is a total of $250 for the tray and moss. Well, that is just too much, so I went to Michael's and found a large and small bag of moss for under $20. I looked for a bright green moss and the smaller bag even had a bit of lime green and branches mixed in. I already had a tray and although the example is black, I wanted to keep mine gold to match my chargers on the dining table. It would be super easy to throw a coat of matte black paint on this though to make it match exactly.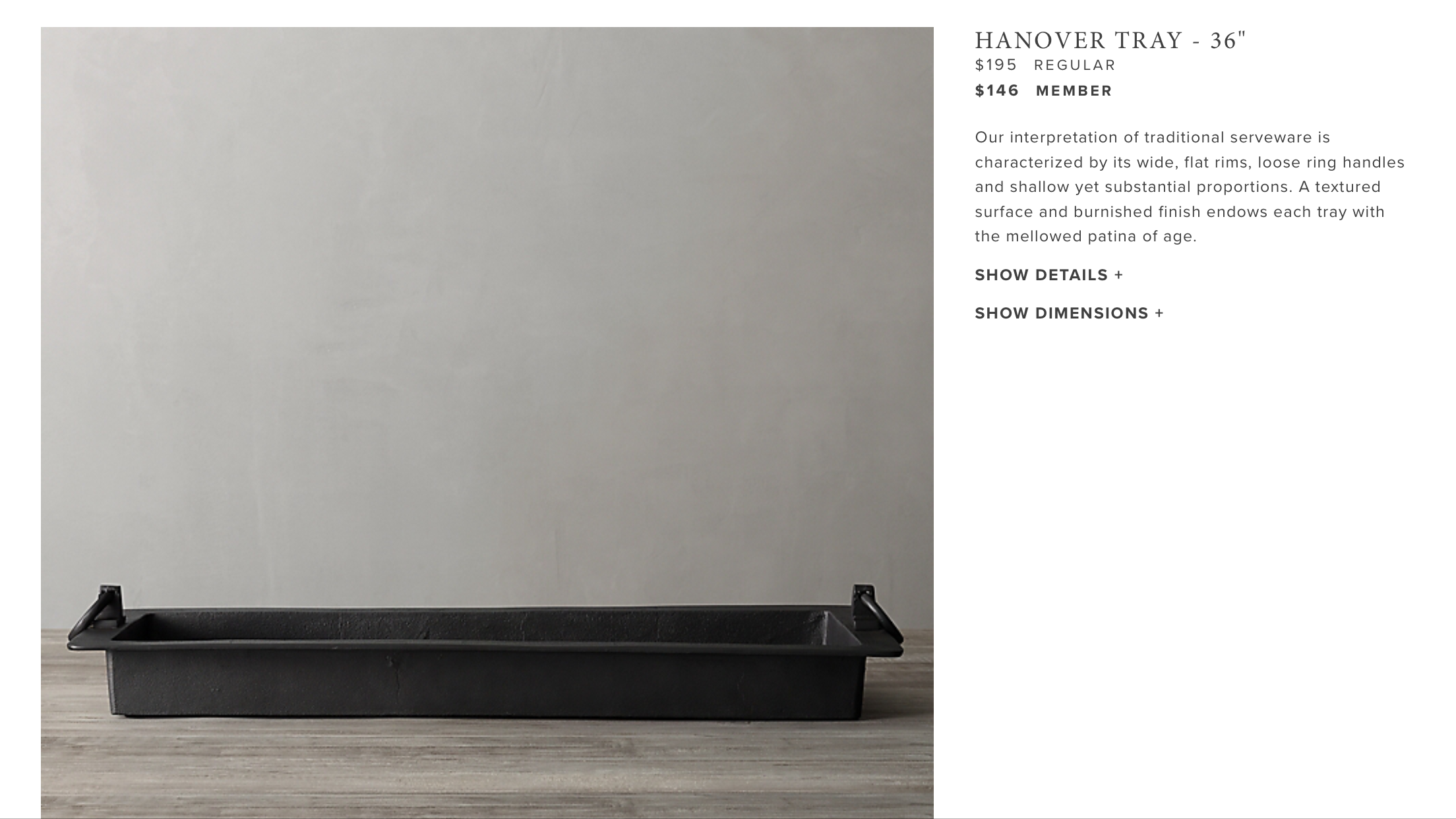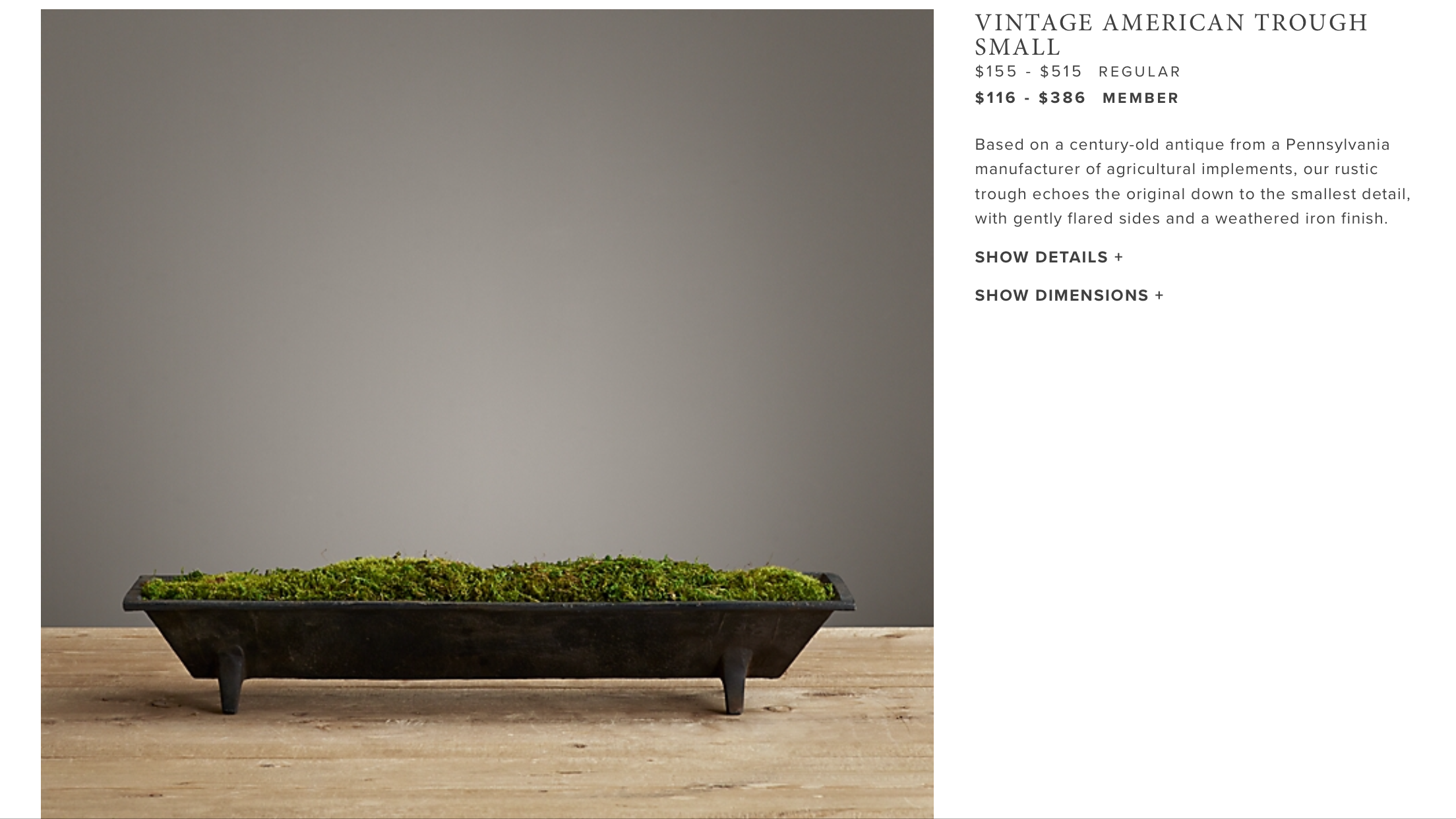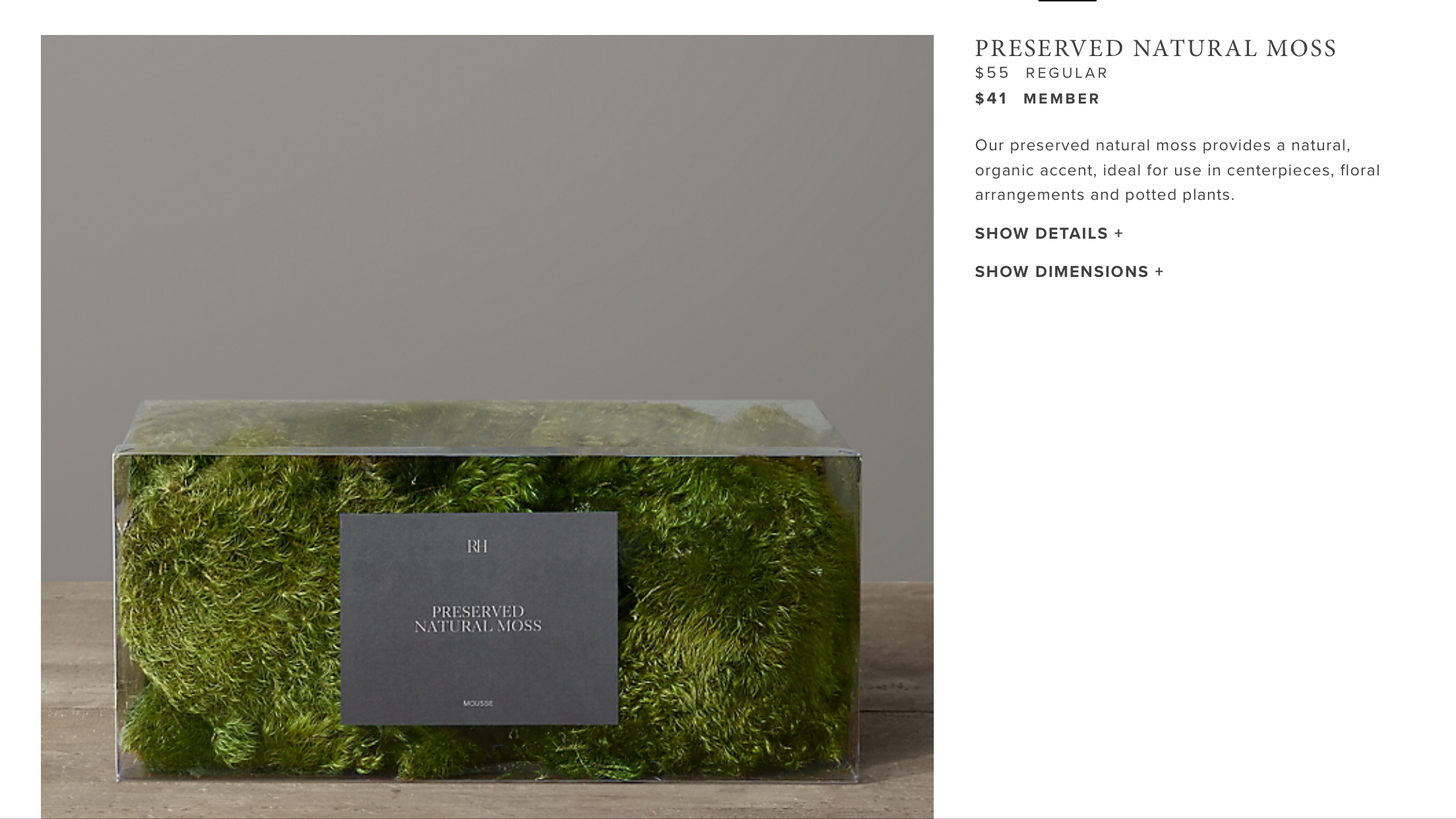 I had bought my gold tray a few years ago from Hobby Lobby, so this made my copycat even cheaper, but I remember this tray was very inexpensive, around $15. All I did was arrange the moss in the tray, didn't have to secure it down or anything. I tried to take the brighter green pieces and distribute them around and did the same with the wooden branches.
This looks great just like this or you could even add a few candle holders.
I finished with those little ring details on the edges of the tray. I found this set of 2 on Amazon and they really dress up the tray nicely. If you were going with the matte black look, you could just spray these with the same paint you use on the tray before attaching them. I used a little hot glue and popped them on there to finish the look.
As a little bonus, I wanted to share how I transformed this even further. When I was at Michael's, I saw these moss bunnies, they are in different positions and are super cute. They were $6 each. Then I saw these pastel eggs for $5 and once I placed these on the moss, it really dressed this tray up and now my table is ready for spring.
I saved over $200 just doing this look for less challenge with what I had around the house and getting some items at Michael's and Amazon. Plus, it was SO easy to put together. I am trying to build a positive community here on Artsy Cupcake, so I would love to get to know you in the comments section below. Thank you so much for reading and I hope you have a very happy day!
FTC: Not Sponsored. All opinions are always 100% honest and my own. Some links may be affiliate links. If you click a link and buy something, I receive a small commission for the sale. It doesn't cost you anything extra and you are free to use the link or not as you choose. If you do use my links, I appreciate your support.