Trunk Club Unboxing and Try On | Trunk Club Women
If you are new to style boxes, this post will give you an idea of what to expect, specifically from the Trunk Club style boxes. And if you are already familiar with Trunk Club, well, it's just fun to see what everyone else gets, right? Even though this is a custom box and no two boxes are alike, I will make sure to link the products within the post, so if you want to recreate these looks, you can. I did a post explaining exactly how Trunk Club works (link here) and I've also done a full review and try on of Stitch Fix, which I will link here. I also did an unboxing of my Trunk Club and try on in this video below, which shows all the items I am about to go through.
I can tell my Trunk Club stylist looked at my notes and past orders, because I have purchased some of these brands before and they all really look like pieces I will love. I got a total of 12 items!
Citizens of Humanity Emmanuelle Slim Bootcut Jeans
I had specifically asked for black jeans because my only pair got bleach on them and black jeans are a definite staple in my wardrobe. My stylist sent me these Citizens of Humanity Emmanuelle Slim Bootcut Jeans. I haven't worn bootcut jeans in awhile, so was excited to see how these looked. I love black jeans because you can dress them up or down. These are really long – I am 5'7" and had to find some heels to put on with these.
Halogen Lace & Crepe Blouse
This Halogen blouse that I am wearing with the black jeans has lace and crepe fabrics. This has such fine details and feels really nicely made and is white so is neutral and will go with everything. It is very see through though, so I definitely needed to put a camisole underneath.
BB Dakota Just Ride Faux Leather Jacket
Next, I got this BB Dakota Just Ride Faux Leather Jacket. I asked my stylist for a moto jacket, but based on my taste, I was expecting brown leather or something not so edgy. But that's the fun of style boxes, your stylist will push you out of your comfort zone and you might find something new that you normally would have walked right by. What do you guys think of this leather jacket?
BB Dakota Nicholson Faux Suede Drape Front Jacket
This lightweight jacket from BB Dakota is called the Nicholson Faux Suede Drape Front Jacket. It is very thin and soft and there are no closures on the front, it is just open and drapey. The sleeves have a stretch section, so it is easy to slip on over a long sleeve shirt and is just really comfortable and so soft. I definitely am going to keep this one.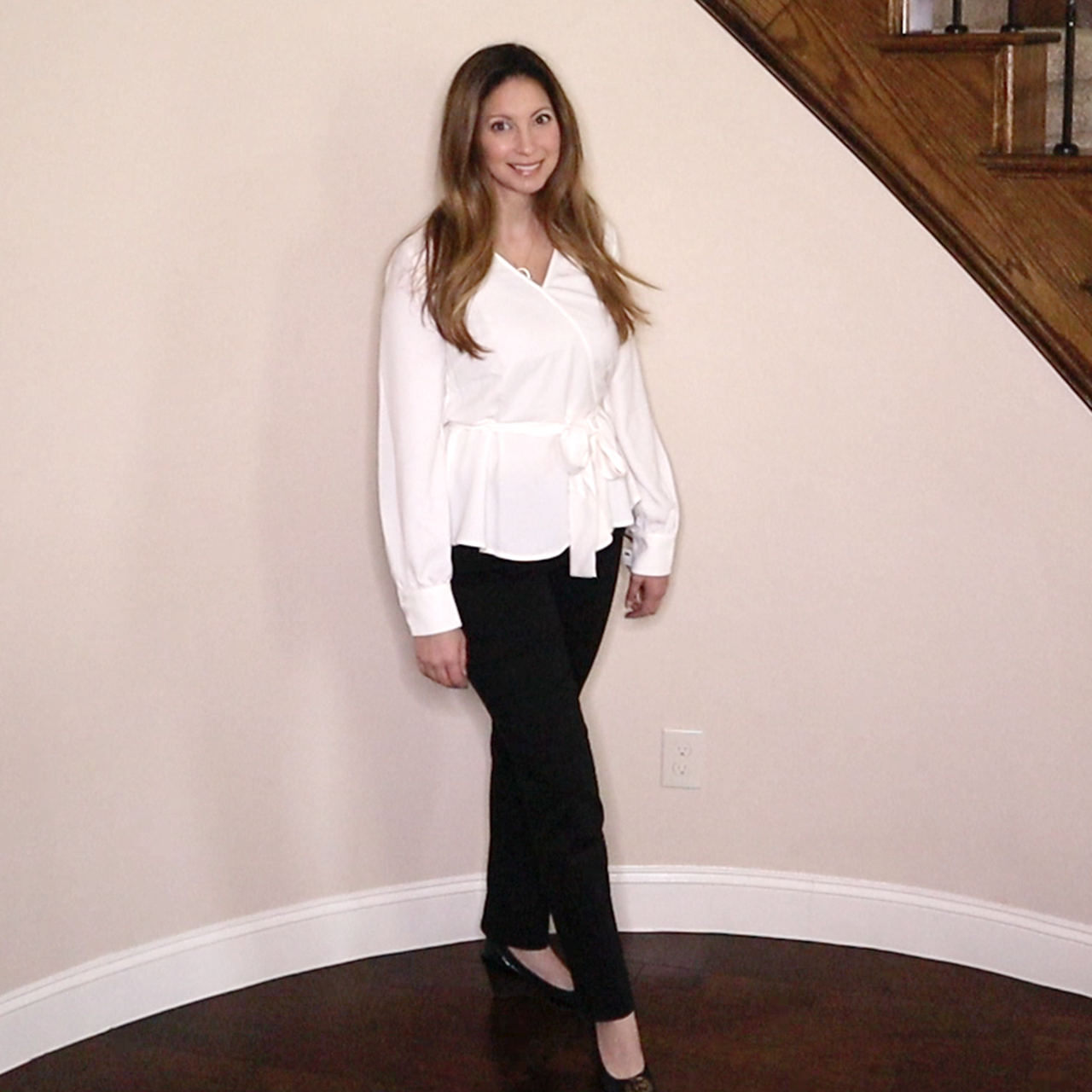 Wit & Wisdom Ab-solution Straight Leg Jeans
I switched into the other pair of black jeans I got from the Wit & Wisdom brand. They are the Ab-solution Straight Leg Jeans. I have a pair of these Ab-solution pants and they are so comfortable because the waistband is nice and thick and elastic! They are a good length and not too wide and not too slim at the bottom. They are just right.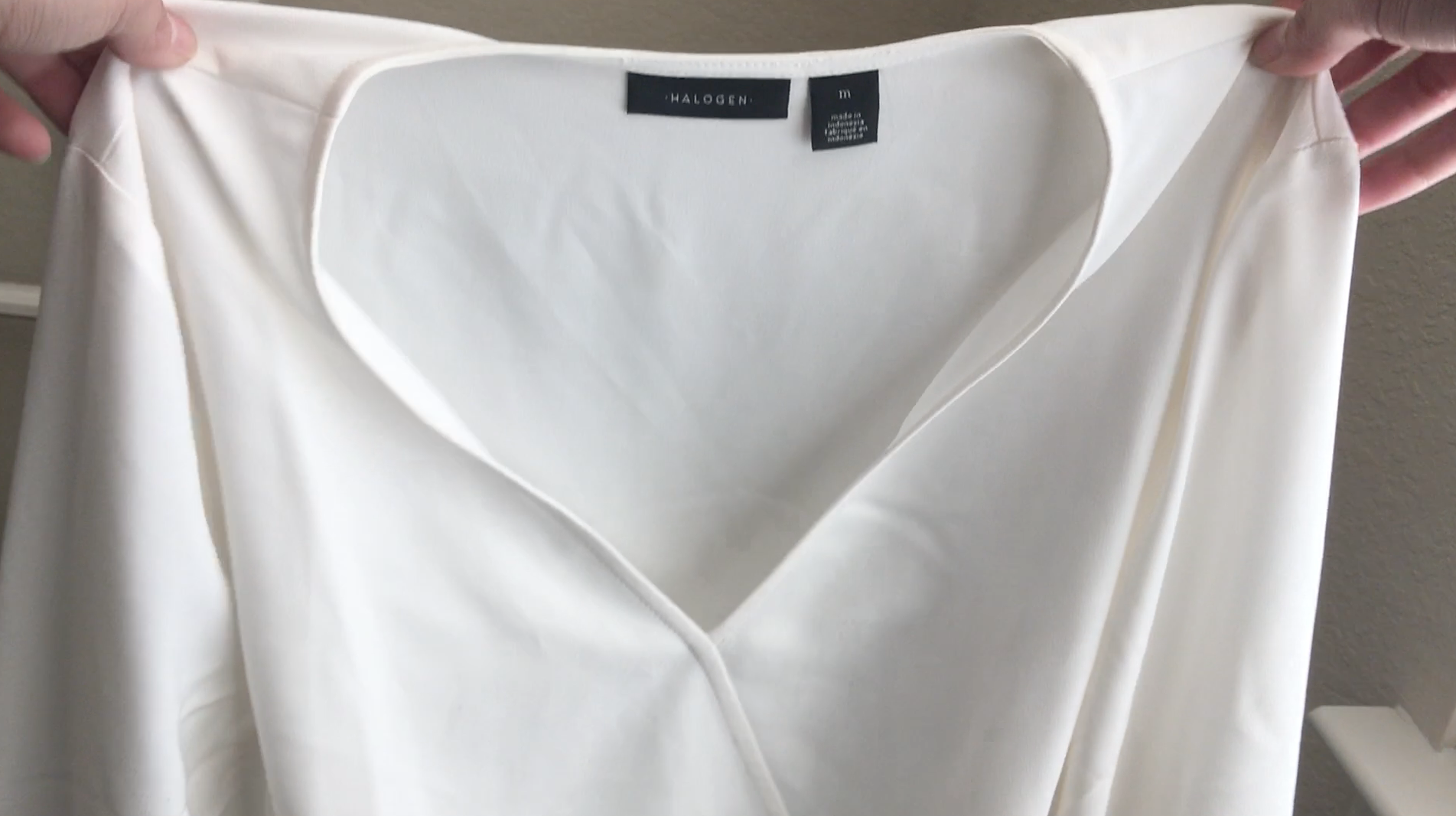 This white Halogen Surplice Top that I am wearing with the Wit & Wisdom jeans is so pretty and I love the detail of the tie belt around the waist. You could remove this belt if you wanted to and replace with a different belt to change up the look. This is just a very versatile blouse to have in your wardrobe.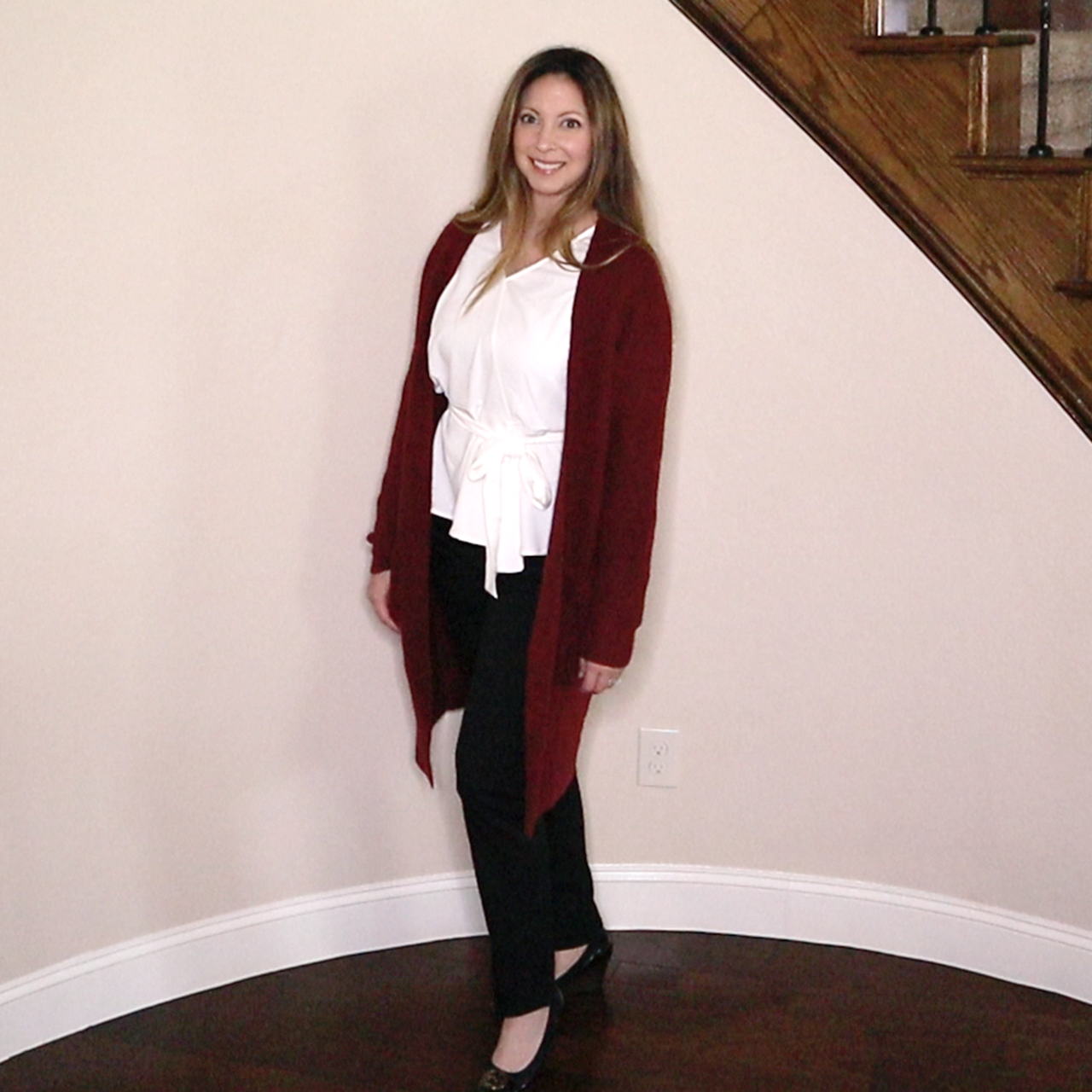 I threw on this Leith Midi Open Cardigan. It is very long and I like the look because these longer cardigans make you look lean and mean…ok, maybe you don't look mean, but definitely lean. I really like this one and the color is a deep reddish orange. Really pretty. I am wearing these with my Tory Burch wedges and these pants are a great length with these 2.5" heel wedges.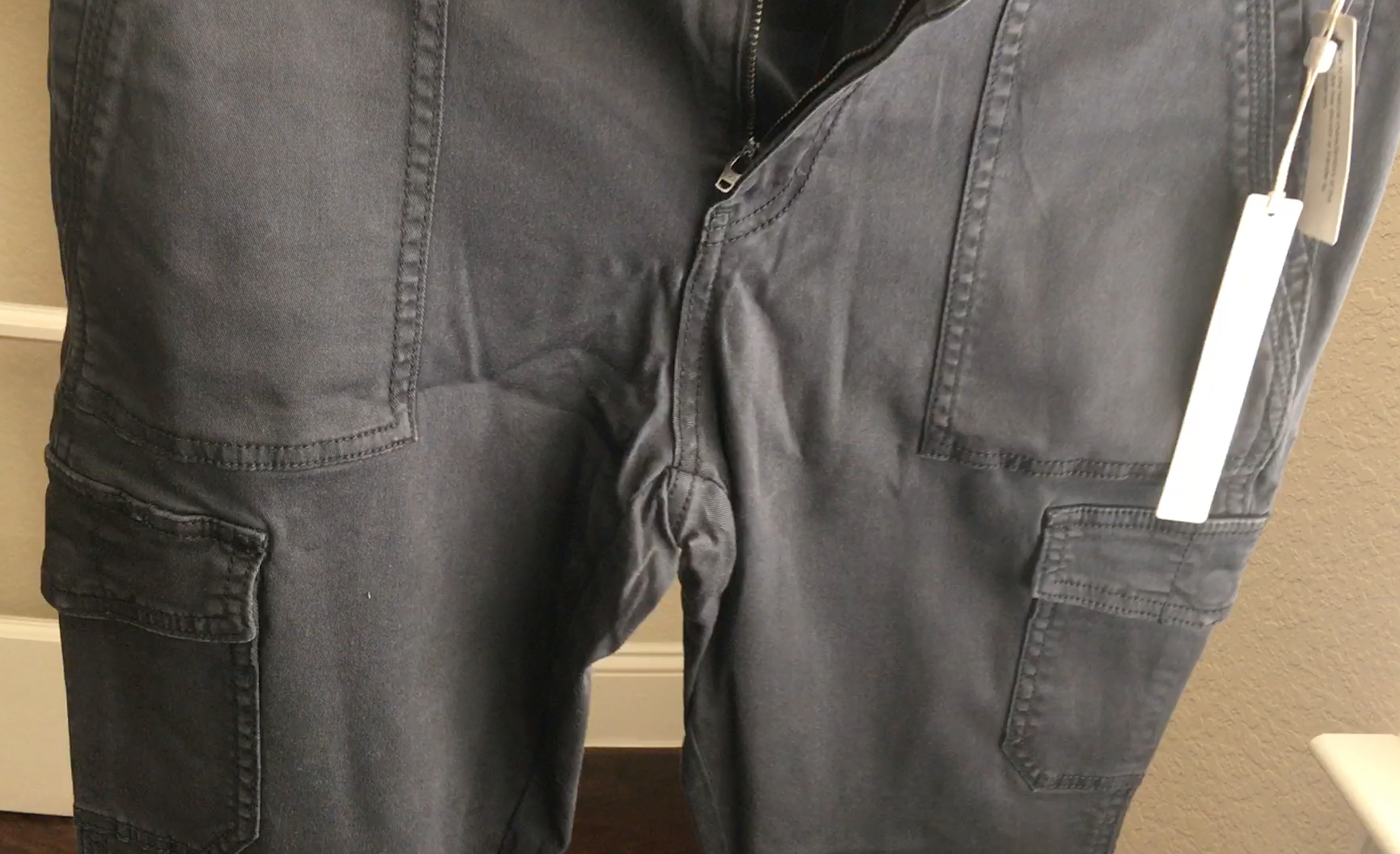 These utility pants from Caslon are a very dark grey color, so they are a good neutral and casual pant for the fall and winter. These have little cargo pockets in the thigh area. They are skinny at the bottom so fit well in these velour black boots I have on in the next outfit.
Caslon Long Sleeve Chenille Cardigan
Sanctuary Chenille Pullover
This other blue chenille sweater is a pullover from the Sanctuary brand. It is also that pretty royal blue. I think I have mentioned to my stylist in the past that I like soft materials, so she was listening and what is softer than chenille. It is a shorter sweater and it feels amazing on! I have it one with the Caslon pants and these velour combat boots by Guess.
Eliza J Floral Chiffon Shift Dress
This Eliza J Floral Chiffon Shift Dress is such a pretty fabric. The floral pattern has touches of velour and the material is sheer and delicate with a nice lining underneath. It is just a gorgeous dress.
Lastly, I got these Bauble Bar Arie Threader Earrings. They are very lightweight and super cute. All the jewelry from Bauble Bar is always well made and lasts a long time.
So, now all I have to do is mail everything back that I don't want and go online to fill out the receipt where I can give feedback on each of the items, so they can make adjustments for next time. Trunk Club can also exchange for different sizes, if the size is available. It is all very convenient and so nice to be able to try everything on in your own home. Style boxes are also great gift ideas. You can gift just one box or more by paying for the styling fees. Did you see anything you wanted for yourself?

// TRUNK CLUB REFERRAL LINK \\




FTC: Not Sponsored. All opinions are always 100% honest and my own. Some links may be affiliate links. If you click a link and buy something, I receive a small commission for the sale. It doesn't cost you anything extra and you are free to use the link or not as you choose. If you do use my links, I appreciate your support.