Did I cancel my Rocksbox?
I got my second month of Rocksbox and want to share the 3 items I received. I did put my account on hold after receiving this box, and I'll explain why in this post. In the video below, you can watch the full unboxing and see which piece of jewelry was the winner! If you haven't heard of Rocksbox, I did a whole review and unboxing of my first month and I explained exactly how it works and all the details. I will make sure to link that post right here if you want to check it out. I also have a coupon code to get your first month styling fee FREE from Rocksbox, which I will link right here:

// GET YOUR FIRST MONTH FREE \\
If you're new to Artsy Cupcake, welcome! I'm Maria and I bring you ideas to be creative in your life with DIYs, fashion lookbooks, recipes and helpful reviews like this one.
// about rocksbox
Rocksbox is a monthly service that will send you 3 jewelry items each month. There is a styling fee that you can use towards any of the pieces of jewelry you end up keeping. I have a coupon code if you want to try your first month free. There is free shipping both ways and you do get discounted member prices on the jewelry by ordering through Rocksbox.
First of all, a month goes by really fast! I felt like I had just sent my March box back and right away got another email saying my April box was ready. Since I had already added all my favorites to the site, and had filled out my style profile, there wasn't much to do other than review what they wanted to send me.
In my last Rocksbox post, I talked about how you have the option to change everything the stylist suggests to you, and I did that with my first box, so it seemed more like I was shopping for myself instead of having the stylist make recommendations and there was no surprise element there, which made it less fun. So, this time I decided to go with what they recommended and didn't even peek at my order status online, so it would be more fun when I received the box. Let's get into the goodies!


// Kendra Scott Ellie earrings
The Rocksbox packaging is so nice. The Kendra Scott pieces came in their own branded bags instead of the Rocksbox branded bags. I liked that because it will be easier to see what jewelry is in what bag. These "Ellie" earrings from Kendra Scott are a stone grey color with gold trim and the back has the beautiful Kendra Scott pattern. I think they are so elegant and will go well with any outfit. They were $50 with the Rocksbox member discount.


// Kendra Scott Ever necklace
Next, we have the "Ever" necklace from Kendra Scott. It was really well attached in its packaging but I finally got it out! I thought the chain in the back was really a nice detail with the logo at the end. Even though you don't see the little logo on the chain when you are wearing it, I always appreciate little extra touches like that from a brand. The stone is a peachy pink and would look great with any color of outfit, since blush is the new neutral. It is a nice length, you could even layer it with a longer necklace to change up the look. This necklace is $60 on Rocksbox.


// Sophie harper bracelet
The final item is the Sophie Harper "Rainbow Crystal Cuff Bracelet". It is a nice thin bracelet that could be layered with others and is flexible, so you can adjust it to fit your wrist. Because of that adjustability, it doesn't feel really heavy or sturdy. If you remember from my last Rocksbox, I had gotten some little circular rainbow earrings from Sophie Harper. Had I kept those, this bracelet would be part of that matching set. But those earrings were really tiny and you could barely see the rainbow stones on them. I feel the same way about this bracelet, the stones are a little hard to see and the colors just looked way more intense online. Because of the faded look of the small stones, I was a little disappointed in this one, especially when it is a bracelet that costs $46.
I did find one that looks better on Amazon though, so I may be ordering this one soon!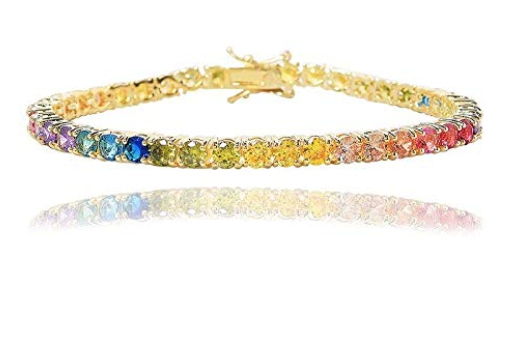 Even better rainbow bracelet!
// final thoughts
The reason I decided to put my account on hold is, first, because once a month for a jewelry delivery service is a lot. I felt like I had just sent my other box back and already had to decide on more jewelry to buy. And it is a decent price and quality of jewelry, so after a few months, this service would really add up.
I will continue to use Rocksbox, but just every once in awhile, when I'm wanting to add something new to my collection. I love that they offer brand names at a discount, because you're part of their program.
So, if I wanted something specific, say, a Kate Spade or Kendra Scott piece, I would probably do a month or two again to try on some of the pieces from Rocksbox before choosing.
Which item do you think I kept from this box? Put your guesses below in the comments section!
I do have a coupon code for getting your first month free right here:
// GET YOUR FIRST MONTH FREE \\
If you want to learn more details about the Rocksbox service, don't forget to check out my last Rocksbox video, which goes into the whole style profile and shows you how the service works and more details on pricing.
FTC: Not Sponsored. All opinions are always 100% honest and my own. Some links may be affiliate links. If you click a link and buy something, I receive a small commission for the sale. It doesn't cost you anything extra and you are free to use the link or not as you choose. If you do use my links, I appreciate your suppo