Low calorie dessert ideas
I have a sweet tooth and if you clicked on this post, I bet you do too! Today I want to share some of my favorite sweet treats. They don't have too many calories, and the ingredients are decent and pretty low in sugar. So, if you want to hear about these easy low calorie dessert ideas, then keep reading. I do have a video on this topic, so if you prefer to watch, than read, here you go.
There is no shame in having a sweet tooth. Some prefer salty, but if you're like me, you love those desserts. So, there are a few tasty treats I always pick up at the grocery store to make sure I can satisfy those cravings without putting on the pounds.
Chocolate Chip Cookie Dough Ice Cream
The first one I want to share with you is Halo Top ice cream. Their flavors are hit or miss. I have had a couple that have too much of an icy texture. So, the one I WOULD recommend is the chocolate chip cookie dough flavor. For someone who isn't big into eating cookie dough, if I like this ice cream, that says a lot. It has tiny pieces of chocolate chips and little chunks of cookie dough in a vanilla base. The entire pint is 360 calories, so you can't do TOO much damage. It doesn't have a strange artificial taste and it's nice and creamy. Sugars are at 7 grams and sugar alcohols at 5g. Highly recommend.
No Sugar Added Fudge Pops
Next up is another frozen favorite. Fudgsicles. These are only 40 calories per popsicle. Sugars are 2.5 grams and sugar alcohols are at 2.5 grams too. If you want a low calorie popsicle that satisfies your chocolate cravings, this old classic will do the trick.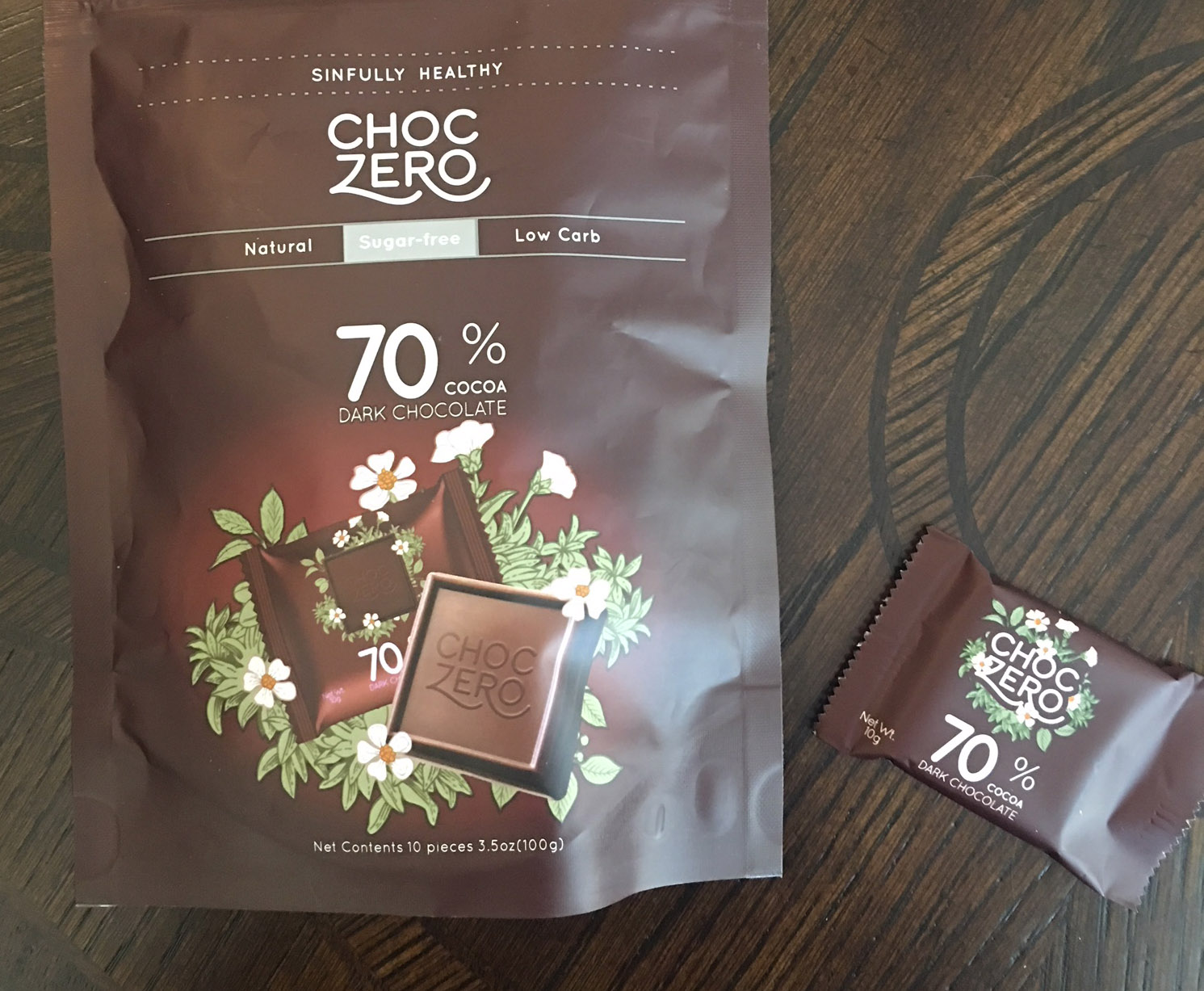 Another treat for chocolate lovers is this monk fruit sweetened 70% chocolate by ChocZero. There are 45 calories per square and ZERO sugars! It is so hard to find chocolate with no sugars and no sugar alcohols. This one only has the ingredients of dark chocolate, soluble corn fiber, sunflower lecithin, monk fruit extract and bourbon vanilla beans. I ordered this on amazon, but just a warning, their other milk chocolate flavors never made it successfully to my front door. They are always melted, even if I brought the package in right away. The dark chocolate ones are more stable in shipping, if you are going to buy them online.
Chocolate Parfait Candies
If you want a little sweet that will last. I just love the Nips candies. These have a caramel hard taffy type outside and when you get to the middle, there is a little melty chocolate. So good and only about 30 calories each.
Protein Energy Bar in Chocolate Mint
Ok, this next one is higher in calories, but is a nice solid snack. It is by the brand Power Crunch and is a protein bar with 205 calories, 5 grams of sugar and 13 grams of protein. If you like Thin Mint Girl Scout cookies, you will love these. They have a wafer middle and are coated with milk chocolate. I have tried all the other flavors, like vanilla, red velvet, chocolate and peanut butter, but these mint chocolate ones are my favorite. So good.
Peach Mango Green Tea Sugar Free Drink Mix
Sometimes you might think you are hungry, or craving something sweet, but are actually just thirsty. Try some water with lemon first or these sugar free juice packets. I got these at Target, they are the Market Pantry Target brand and the peach mango green tea flavor is delicious. Only 10 calories per serving and you get some water in too.
DIY with berries, yogurt and nuts
This can be a breakfast, snack or dessert. I take Chobani Vanilla yogurt, add some fruit – either strawberries, peaches, blueberries, whatever sounds good. Then add these Navitas chocolate dusted almonds with a little cinnamon dusted on top.
Another few I want to mention are pretty simple. Take some strawberries with lite cool whip on top. Strawberries are so low in calories but so sweet. They're only about 4 calories each.
Tiny little fruit popsicles!
Another yummy fruit dessert is frozen grapes. Just pop them in the freezer and you have very simple tiny popsicles. I grab a little bowl of these and they REALLY satisfy my sweet tooth.
Another thing I like are the sugar free pudding cups. Only 70 calories each and they are great for on the go. Yes, there are some artificial ingredients in these, but we're just focusing on low calories right now and eating these things in moderation.
So, those were some of MY favorite sweet treats, which are low in calories and will satisfy those dessert cravings. If you liked this post and want to see more like it, please share and comment below of what YOU like to eat to fix YOUR sweet tooth. Thanks for reading and have a happy day!


FTC: Not Sponsored. All opinions are always 100% honest and my own. Some links may be affiliate links. If you click a link and buy something, I receive a small commission for the sale. It doesn't cost you anything extra and you are free to use the link or not as you choose. If you do use my links, I appreciate your support.