Best skin care products | Every day skin care
I'm going to share with you some of my favorite products that I use to cleanse, protect and prevent aging on my skin. I created a video on this topic, so if you prefer to watch than read, please click below.
I love hearing other people's skin care tips because sometimes I pick up an idea or two. Or I'll hear about a product that sounds like it might work well for my skin and I just love finding things from recommendations. So, I hope this is helpful to you and maybe you'll find your next favorite product right here.
// Keep a simple routine
The first thing I want to mention is to keep your routine relatively simple. If there are too many steps, or your routine takes too much time, you are more likely to abandon it completely. So, having just a few key products that really work will make your routine much easier to keep up with.
// Clean out that makeup drawer
Another way to keep your skincare routine simple is to try to keep your vanity or skin care drawer clean and uncluttered. Having the counter space or makeup drawer less cluttered makes it easier to grab those few things you know you love. If it's overwhelming every time you have to wash your face, you may start skipping steps to avoid digging around in that cluttered drawer. So, make sure to clean out those drawers and toss anything older than a few months so that you can bring some simplicity and peace into your skin care routine.



// Ok, let's get into the products
It is really important to cleanse your face to keep your skin healthy. I love to use wipes for a quick cleanse of my face in the morning or after a workout. They're also great in the evening to get a majority of your makeup off before doing a deeper cleanse.
The ones I like are from Vichy and they use micellar water to help get rid of impurities. The ones from Neutrogena in either the blue or purple packaging are another favorite wipe of mine and they're a little cheaper too.
If I don't use those wipes for either getting a majority of my makeup off before a deep cleanse, or for first thing in the morning, then I would probably be using L'oreal's micellar cleansing water.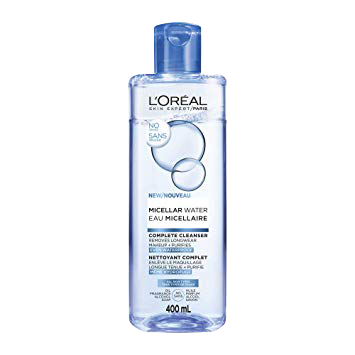 L'Oreal Micellar Cleansing Water
You just put it on a cotton pad and it removes dirt and eye makeup without too much effort. You do have to shake the bottle to get the oil and water to mix, so it works effectively. It really does a good job and doesn't leave your skin feeling too oily or too dry.
To get a really good cleanse I like to use an oil based remover to make sure I get everything off my skin at night. I use Boscia makeup breakup cool cleansing oil.
Boscia MakeUp BreakUp Cool Cleansing Oil
But don't let the oil in the name scare you off if you have oily skin. I have combination skin, but even on my oily parts, this product doesn't clog pores or cause breakouts. What the oil does do, is break up the makeup and help it slide right off your skin. You can just rinse the rest off with water and you aren't left with any oily residue, just clean skin.
For eye makeup removal, I've found a really good product. I use waterproof mascara pretty much every day because it's the only type that will hold my curled eyelashes in place. So, I need something that really works to remove every last bit of that waterproof mascara at night. Now I don't want to be tugging and pulling at my eyelids either because that causes wrinkles. So this product from the Body Shop is really great.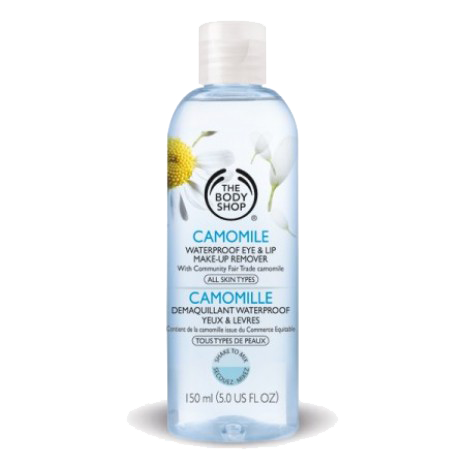 The Body Shop Camomile Waterproof Eye & Lip Makeup Remover
It's for sensitive skin and has an oil base, so you have to shake it before using. But it just takes a few wipes with a cotton pad and the waterproof mascara will just melt off. It is a little pricey, but this stuff lasts a long time and is so worth not struggling to get the mascara off.
So we've talked about keeping your skin clean and removing makeup and other impurities. Now I want to go into some items that will help with anti-aging and keeping you moisturized and protected from the elements.
I think doing some sort of exfoliation once a week is a great way to remove excess skin cells and helps the skin to remember to rejuvenate and rebuild itself. I use the Microdelivery Resurfacing Peel from Philosophy.
Philosophy The Microdelivery Peel
It is a little pricey at $72, but if you use it once a week, it will last you several months. You take the very scrubby resurfacing crystals, which have vitamin c and peptides and you scrub these over your skin for a minute or two. Then you add some of the lactic and salicylic acid gel on top of the crystals and it activates to make a fizzy scrub that smells and kind of feels like an orange smoothie on your face. It's a really pampering treatment that I look forward to every week and only takes a few minutes.
The Osea brand (I think I am pronouncing that right) is full of healthy ingredients for your skin. I use the atmosphere protection cream in the morning and is so lightweight that it absorbs really quickly and works great under foundation. It has algae extract, avocado oil, jojoba oil, lavendar, macadamia and shea butter in it.
Osea Atmosphere Protection Cream
Osea Essential Hydrating Oil
It is super hydrating but doesn't make you an oil slick or anything. But with my combo skin I do reserve this for right before bed. I think it would be a little too oily under makeup unless you have super dry skin. and it's the middle of winter. and you live in Alaska or somewhere with pretty brutal winters. Then it might work under makeup for you. This oil smells SO good because it has geranium flower oil in it along with jojoba oil, lavender, macadamia and rosewood oil.
Using sunscreen during the day is a must if you want to protect yourself from uv rays, which will cause premature aging. And we don't want any of that. I love this one from Avene.
Avene 50 SPF Face Ultra-Light Hydrating Sunscreen Lotion
It is the SPF 50 for face ultra light hydrating sunscreen lotion. That's a long name. It soaks in SO quickly and the bottle lasts a really long time. I even use it on my arms and the bottle just seems to be endlessly full! It is supposed to provide 24 hours of hydration and is water resistant for 80 minutes. It's great under makeup or on its own.
For an under eye cream, I have been using and really liking this one from Dr. Organic Skin Care.
Dr. Organic Skin Care Rose Otto Eye Serum
It is an eye serum that is for overnight use, but I use it in the mornings as well since it isn't too heavy or oily. It is made with organic rose otto oil and it soaks in to your skin really quickly, yet helps to make your under eye area not look so dry.
Last but not least I want to talk about lips. I use a lip exfoliator a couple times a week before bed. I love this one from elf that is only $3!
It comes in a few different scents, like sweet cherry, brown sugar and mint. You just apply it like lipstick and rub your lips together to really scrub it in. Then rinse it off and wipe your lips with a washcloth and it really smooths them out. Then, I like to apply my favorite lip treatment from the Fresh brand. It's made from sugar, nourishing meadowfoam, black currant and grapeseed oils and has a nice citrus type scent.
Fresh Sugar Lip Treatment
So, there were some of my product recommendations and tips for skin care. If you liked this post, please share with a friend or comment below. Thanks for reading and I hope you have a happy day!


FTC: Not Sponsored. All opinions are always 100% honest and my own. Some links may be affiliate links. If you click a link and buy something, I receive a small commission for the sale. It doesn't cost you anything extra and you are free to use the link or not as you choose. If you do use my links, I appreciate your support.